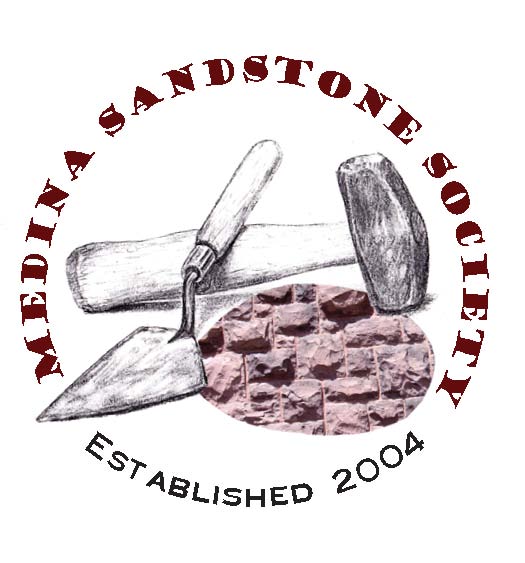 Founded in 2004, the Medina Sandstone Society today is a New York State not-for-profit corporation with the purpose of becoming a viable community asset to aid local programs. The Sandstone Society has engaged in a wide variety of activities, including:
Understanding the renowned stone itself.
Fostering community support and esteem, supporting local projects and celebrations.
Established the Sandstone Society Hall of Fame.
Encouraging historic preservation.
Marking special sites with engraved sandstone tablets.
Using grants and gifts to protect and save worthy structures.
Publishing texts of local interest.
Honoring special citizens with awards
Saluting Medina's status as an Erie Canal port.
Sponsoring "walking tours" of historic sites.
Recruiting auxiliary associates called "Stone Cutters".
Establishing a Medina civic endowment named the Sandstone Trust.
Medina Armory built of Medina Sandstone in 1903 currently houses the Orleans County YMCA. Excerpt taken from the publication, "Medina—The Stone Everlasting", circa 1900, reproduced in 2007.
Prized Material by Builders
Medina sandstone, formed by nature 400 million years ago, has been the "cornerstone" of the culture of Medina, New York which gave it its name. Discovered around the time of the digging of the Erie Canal in the 1820s and accepted as a superlative building material, it was quarried for over a century in Orleans County and shipped world-wide for architectural masterpieces. Find it in scores of churches and other magnificent buildings, Brooklyn Bridge, the NYS Capitol, thousands of homes, earlier in cobblestone streets. It has strength and integrity, plus unmatched beauty in many shades. It is the foundation for this society and the Sandstone Trust.