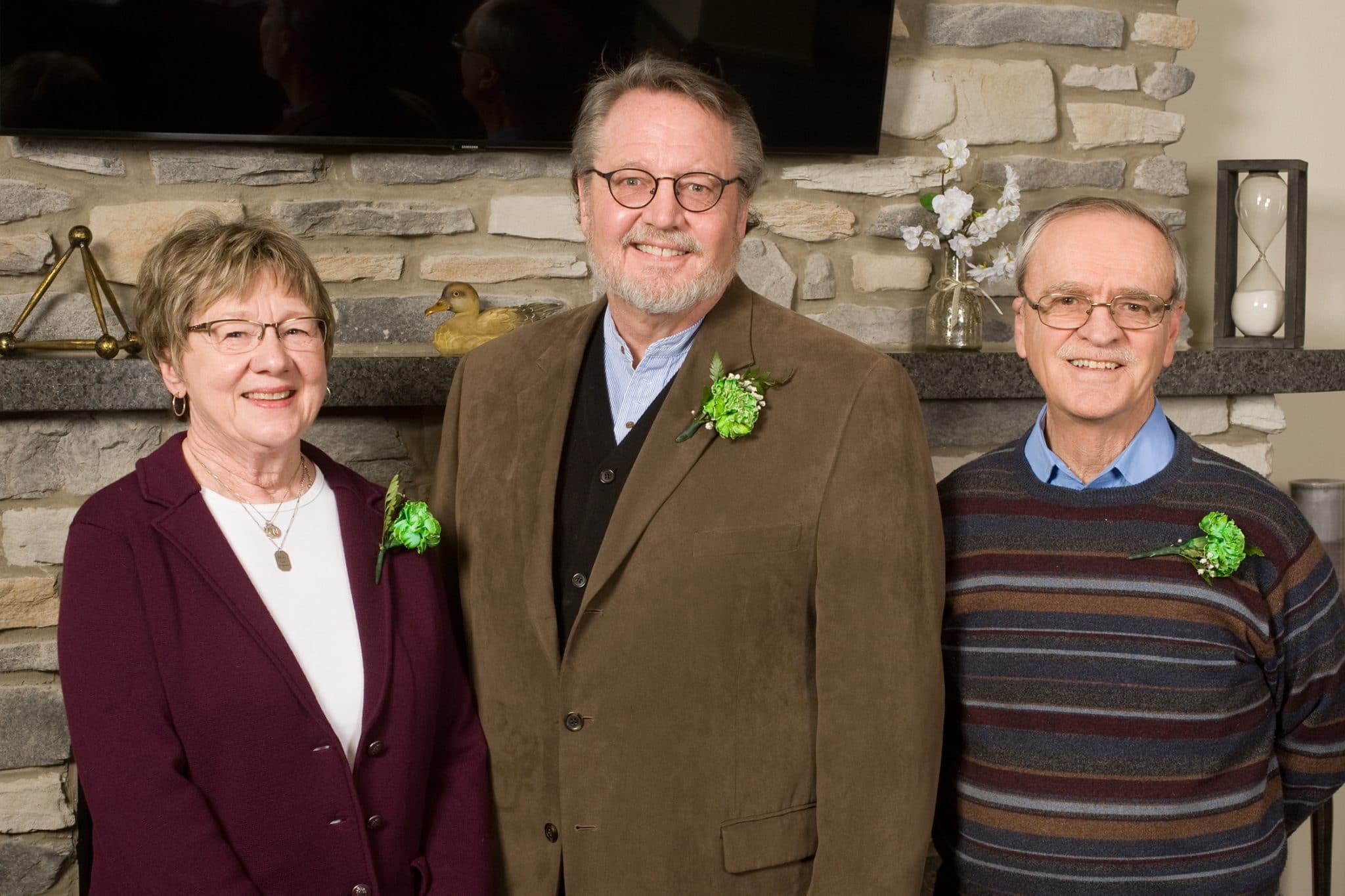 2022 Executive Committee: Margaret Schreck, Craig Tuohey, James Hancock (missing Craig Lacy)
In the fall of 2004, an idea was born which seems destined to provide pride in the historic heritage of Medina, NY and a springboard for worthy civic projects—building on this heritage.
Robert E. Waters, a one-time head of the Medina Armory Action Committee, formed in 1978 to put an abandoned National Guard armory to appropriate public use, realized that the handsome and historic Medina armory was in need of exterior care after a century of use. The Orleans County YMCA (formed around 1980) is currently the occupant and title-holder of the building and it has been a substantial success in giving its program to the public. The "Y" can basically see to interior care of the large castellated structure, but exterior maintenance is on-going and challenging. The Sandstone Society has taken some of this responsibility on its shoulders to support the "Y". (Funds for this work are a year-to-year challenge.)
Mr. Waters immediately called upon Charles W. Slack, another former chairman of the Armory Action Committee and they brought together about a dozen remaining members of that committee who still have enthusiasm for the beauty of the armory and its history. Thus came into existence THE MEDINA SANDSTONE SOCIETY. It was well received and has taken a major role among civic organizations in Medina.
Want to join our Board?  Please submit this form and we'll get back to you.
Regular bi-monthly meetings are held by this Sandstone Society board consisting of:
2023 Board Members
Craig Tuohey, President
Matt Holland, VP
Craig C. Lacy, Treasurer
Margaret J. Schreck, Secretary
Gabrielle Barone
Kathy Blackburn
Katherine Bogan
James Hancock
Rollin Hellner (new in 2023)
Susan L. Holland
Rob Klino
David Miller
Reinhard Rogowski
Tom Rivers
Mary G. Zangerle
Founder and Director Emeritus: Robert E. Waters

       See list including past directors

Sandstone Trust Grant Committee
This group represents a wide cross-section of community life and currently includes Kelly Kiebala, Mark Kruzynski, Cindy Robinson, Cal Tuohey and committee chair Mike Zelazny.  These busy and involved people are active in many hometown affairs.

We welcome you to visit our Accomplishments page to view the many activities and projects that the Medina Sandstone Society has been involved with, as well as our photo gallery.