In June 2021, the Medina Sandstone Society was pleased to present their annual scholarship of $1000 to Jacob Velesko, son of Jerry and Rose Velesko of Middleport NY. Jacob is currently attending the University of Buffalo and is majoring in Mechanical Engineering.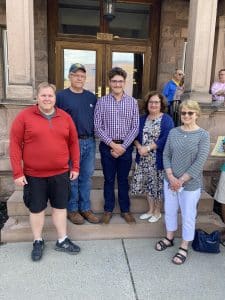 The John Ryan School of Historical Excellence Scholarship is an annual award given to an outstanding Medina High School senior who has been enrolled in an exclusive program called the John Ryan School. These junior and senior honor students are offered an enhanced local history curriculum developed by the High School History Department and the Sandstone Society, and their high school diplomas have the designation of John Ryan Scholar. Scholarship applicants are judged by their grades, participation, and an essay on a pre-assigned topic. The scholarship check was presented to Jacob in the Medina City Hall, with a display of the Sandstone Wall of Fame in the background. Also on hand were Todd Bensley and Margaret Martin as representatives from the High School History Department.
Jacob's essay prompt, Tell Us About Your Favorite Medina Historical Gem, was titled "The Mighty Medina Falls." A quote from his essay truly captures the essence of the Medina Falls and its importance to our village- "Our own falls, much more unique and near to the hearts of those in Medina than that of Niagara. Something to be proud of, something so diverse and unique in our small town, something that we, the people of Medina, are known for."
Members of the 2021 scholarship committee were Jim Hancock, Rob Klino, Craig Tuohey and Mary Zangerle
A reception immediately followed the awards presentation hosted by the Medina Sandstone Society's Events Committee.