2016 Medina Sandstone Hall of Fame
Download printable brochure 2016 Hall of Fame Tri-fold
The unveiling ceremony for the Class of 2016 Medina Sandstone Hall of Fame Inductees was held on Thursday, October 20, 2016 at Medina City Hall, 600 Main Street, Medina, NY.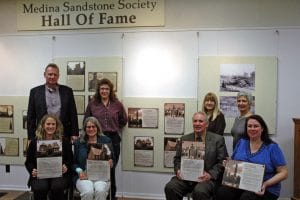 The Society revealed four outstanding Medina Sandstone buildings spread across New York State. The Inductees were selected among 8 new nominees as well as those nominated from 2013-2015.
Click here to view the list of 2016 nominees.
Click here to view the list of nominees listed by year (2013-2015).
The inductees for 2016 were:
Hillside Cemetery Chapel in Holley, NY

4065 HOLLEY BYRON ROAD, HOLLEY, N.Y.

Located just outside the village of Holley, Hillside Cemetery is an active town cemetery established in 1866 and developed between 1866 and 1938. An elegant Gothic Revival style chapel was built in 1894 for $3,350 and is a primary feature of the cemetery. Originally constructed for burial services at the cemetery, the 20×32′ chapel was designed by Rochester architect Addison Forbes and features Medina sandstone construction, a slate roof, and decorative glass windows.The chapel and cemetery was listed on the National Register of Historic Places in 2013.
In 2014 the Landmark Society of WNY selected the chapel for inclusion as one of their Five to Revive properties. In 2015 the Town of Clarendon was awarded $126,210 from the Finger Lakes Regional Economic Development Council to help fund much-needed repairs to the Cemetery Chapel. We salute the hard work of Clarendon residents in recognizing and promoting the historic significance and beauty of the Hillside Cemetery and Chapel.   

Emma Flower Taylor mansion

241 CLINTON ST., WATERTOWN, N.Y.

Built in 1896 as a wedding present to his only surviving child by then NYS Governor Roswell Pettibone Flower, the Emma Flower Taylor mansion in Watertown N.Y. is an outstanding example of the Queen Anne architectural style, one of the most recognizable of the Victorian styles. It is a massive 2 ½ story mansion constructed of rock faced, random course Medina Sandstone. The home was designed by Charles Rich of the NYC firm of Rich Lamb, which also designed Sagamore, the home of Theodore Roosevelt on Oyster Bay, Long Island. It has many distinguishing features including a porte-cochere, tiled roofs, a wrap around porch on the first floor, second floor porches, rounded corner turrets, large overhanging gables, an asymmetrical footprint and surfaces, and widow bays. Its most unique feature is the use of Medina Sandstone which was quarried in Medina N.Y., moved to the site by rail, and cut on site.

The mansion was converted to eight apartments in 1940 after Mrs. Taylor's death. It is a magnificent structure which was built and maintained in the classic Victorian tradition both externally and internally. Its present owners have stayed true to preserving this architectural gem in its original Queen Anne style. It was listed on the National Register of Historic Places in 2002.
First Presbyterian Church in Buffalo

ONE SYMPHONY CIRCLE, BUFFALO, N.Y.

The First Presbyterian Church of Buffalo, New York was established in 1819 and was the first organized church in Buffalo.

The current building, made of beautiful Medina Sandstone, was designed by Green & Wicks and was built by Jared Hyde Tilden. In addition to this wonderful church, a 163 foot Tower was completed in 1897. In both cases the style is Richardson Romanesque. Upon the completion of this tower, the congregation formally dedicated the sanctuary on May 6, 1897.

When this church was first thought to be sited, the congregants and trustees wanted to be in the midst of the expanding population in Buffalo. As the city grew, so did First Presbyterian and its desire to grow their mission. As a result, they assisted in the formation of thirty-nine other congregations.

Today, almost 200 years after its formation, First Presbyterian and its beautiful Medina Sandstone edifice are examples of truly outstanding longevity, both in spirit and structure.

Sonnenberg Manor in Canandaigua, NY

151 CHARLOTTE STREET, CANANDAIGUA, N.Y.


Frederick Ferris Thompson, a prominent banker in NYC, and his wife Mary Clark Thompson, whose father, Myron Holley Clark, was Governor of NYS in 1855, purchased the Sonnenberg property in 1863, keeping the name which means "sunny hill" in German. In 1887, they replaced the original farmhouse with a forty-room Queen Anne style mansion. The mansion was designed by Francis Allen, a noted Boston architect. Allen also designed and oversaw the remodeling of the mansion approximately 15 years after it was constructed. The mansion's facade is rusticated Medina gray and red sandstone.

After Mary Clark Thompson's death in 1923, the property was sold to the Federal Government who built a veteran's hospital The government used the mansion to house doctor's families and some nurses. In 1972 the mansion and its grounds were transferred from the Federal Government to a local non-profit organization formed to restore and reopen the property. It was opened to the public in 1973.
Download printable brochure 2016 Hall of Fame Tri-fold
For more information, contact the Hall of Fame coordinator at hof@sandstonesociety.org.