Medina Sandstone Society council members, Jake Hebdon and Lynne Menz wanted to create not just any float for the annual Parade of Lights but to create a "moving memorial" — a tribute to Medina's ambassador, former mentor and founder of the Sandstone Society, Robert E. Waters. Mr. Waters passed away the previous summer and was greatly missed by his family, friends and colleagues.
In the spirit of the holiday season, they chose the nostalgic theme "It's a Wonderful Life" and appended "– in Medina" since the village has been compared to the fictional Bedford Falls. The float committee pulled together vintage elements to recreate a "Wonderful Life" parlor complete with a piano, Christmas tree, stained glass windows, architectural pillars, lighting and empty velvet club chair. Adjacent to the chair was the bowler hat and white gloves that Mr. Waters wore at his last public appearance in April. An antique steamer trunk with a gold light shining from its center represented the Sandstone Trust, the legacy that Mr. Waters left to his community. A spot-lit wooden pedestal was displayed in the center with Mr. Waters' portrait.
To top it off, Lynne & Jake commissioned the "A-Team" to sing "There's No Place Like Medina", Mr. Waters' anthem for his hometown pride, as well as the music from the final scene of "It's a Wonderful Life": "Hark the Herald" and "Auld Lang Syne". The A-Team consisted of Adam Tabelski, Aaron Grabowski and Andrew Meier who were decked out in vintage styled attire, boat hats and red bow ties in honor of the honoree's classic style.
A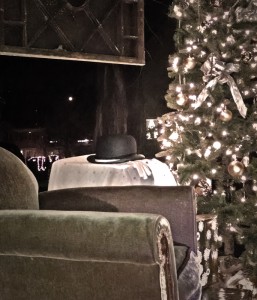 s the float made its way through the village, you could feel the emotion from the community, a testament to the loss of its beloved ambassador. The creative efforts resulted in winning the Star Award and $200 from the Parade of Light judges.
This tribute could not have been possible without the help of several individuals contributing their time and talents as well as local businesses who contributed the materials: Peggy & Dave Schreck, Sue Holland, Dave Miller, Jodie Hebdon, Adam, Aaron & Andrew (the A-Team), Cooper Funeral Home, Napa Auto Parts, Jeddo Mills Antiques, Roberts Farms and the Print Shop. Thank you!